NOTE: CSS welcomes your comments on these posts! However, we do insist that you provide a real email address, and first-time comments will be held for moderation. Thank you for understanding.
Permanent link to this article: http://www.corvallissecular.org/2013/12/05/prayer-booths/
'Science' crowned word of the year by Merriam-Webster
http://www.latimes.com/science/sciencenow/la-sci-sn-2013-word-of-year-science-cognitive-20131205,0,4438774.story#axzz2mdBLNh2J
The most searched word this year is not "religion" or "faith." It is not "Christianity" or "Islam." It is science! The more people are interested in science, the less superstition (religious or otherwise) will appeal to them.
The results from Merriam-Webster, based on 100 million lookups in its online dictionary per month, showed that "science" showed the highest increase in lookups compared to last year, 176%. Its definition: "knowledge about or study of the natural world based on facts learned through experiments and observation."

The runner-up was also science-y: "cognitive," or "of, relating to, or involving conscious mental activities (such as thinking, understanding, learning, and remembering)."
Permanent link to this article: http://www.corvallissecular.org/2013/12/05/science-is-number-one/
A Los Angeles Times editorial, November 27, 2013
http://www.latimes.com/opinion/editorials/la-ed-hobby-lobby-20131127,0,3437805.story#axzz2mLfrREip
The Supreme Court can't do much about most of the travails afflicting implementation of the Affordable Care Act. But it can put one controversy to rest by rejecting the dangerous claim that profit-making businesses have a "religious" right to defy a federal mandate that they include contraceptive coverage in their employees' health insurance plans.

On Tuesday, the justices agreed to review two appeals court decisions that came to opposite conclusions on that question. In one of the cases, Hobby Lobby Stores Inc., a chain of crafts stores with 13,000 full-time employees that operates on "biblical principles," argued that the mandate would require that its employees' insurance plans include drugs that functioned as abortifacients. The U.S. 10th Circuit Court of Appeals accepted the argument that forcing the company to comply with the mandate would violate the owners' rights under the Religious Freedom Restoration Act.

A ruling for Hobby Lobby, grounded in either the Religious Freedom Restoration Act or the 1st Amendment, would do more than throw a legal wrench into the implementation of Obamacare. It would potentially blow a hole through all sorts of laws that require businesses to treat their employees fairly even if doing so might offend an employer's religious views. The court should reject such a radical reinterpretation.
Permanent link to this article: http://www.corvallissecular.org/2013/12/02/the-hobby-lobby-dodge/
Cardinal Dolan says Catholic Church 'caricatured as anti-gay'
http://www.latimes.com/nation/nationnow/la-na-nn-cardinal-dolan-gay-marriage-20131130,0,1355497.story#axzz2mGssSbcb
As gay marriage legislation picks up momentum across the country, New York Archbishop Timothy Dolan said the Roman Catholic Church is losing the fight because it's been "caricatured as anti-gay."

On the day that Hawaii's Democratic governor, Neil Abercrombie, signed his state's gay marriage legislation into law, Honolulu Bishop Larry Silva called same-sex marriage a "manufactured civil right" that was "symptomatic of a profound misreading of the purpose of human sexuality."  And a week later when Democratic Gov. Pat Quinn of Illinois legalized same-sex marriage, Bishop Thomas John Paprocki of Springfield held an exorcism for the state to rid it of the "grave sin" of the legislation.

"We've been outmarketed sometimes. We've been caricatured as anti-gay," he [Dolan] said, adding that the church is "pro-traditional-marriage" and "not anti-anybody."
My comment as Oregon Iconoclast at 12:01 AM December 1, 2013: "The Roman Catholic Church is indeed anti-gay. And anti-atheist. And anti-choice. And anti-separation of government and religion. And anti-married clergy. And anti-democracy. It's time its members left this church."
_________________________________________________________________________________________
 More liberal, populist movement emerging in Democratic Party
http://www.washingtonpost.com/politics/more-liberal-populist-movement-emerging-in-democratic-party-ahead-of-2016-elections/2013/11/30/6729a850-53a7-11e3-9e2c-e1d01116fd98_story.html?hpid=z1
For more than two years, President Obama has endorsed reducing Social Security payments as part of an ambitious deal to tame the national debt. But then Sen. Elizabeth Warren (D-Mass.) — viewed by supporters on the left as a potential 2016 presidential candidate — embraced a far different proposal: increasing benefits for seniors.

As Obama struggles to achieve his second-term domestic agenda, a more liberal and populist voice is emerging within a Democratic Party already looking ahead to the next presidential election. The push from the left represents both a critique of Obama's tenure and a clear challenge to Hillary Rodham Clinton, the party's presumptive presidential front-runner, who carries a more centrist banner.

"The first Obama administration was focused too much on saving the banks and Wall Street," said Sen. Tom Harkin (D-Iowa), a liberal who is retiring after four decades in Congress. "There's going to be a big populist push on whoever's running for office to espouse these kinds of progressive policies."

Senate Democrats' recent decision to abandon the filibuster for almost all nominees was a major victory for liberals, who had long championed the change, and paves the way for left-leaning nominees to join courts and helm agencies.
_________________________________________________________________________________________
Parents plead to be able to help terminally ill children die
http://www.cnn.com/2013/11/27/world/europe/belgium-euthanasia-for-children-debate/
Brussels, Belgium (CNN) — As little Ella-Louise faded away, her tiny, frail body wracked with pain, her heartbroken mother was left to look on, feeling powerless. Linda van Roy says she could do nothing to help her terminally ill baby in the last hours of her life. She wishes she could have administered a fatal dose of medication to make the end of her daughter's short life come more quickly.

Belgium legalized euthanasia in 2002 for those in "constant and unbearable physical or mental suffering that cannot be alleviated." Minors were included in the original proposals but were left out of the final legislation for political reasons.

Polls show the majority of Belgians agree with the principle of offering euthanasia to children.
Permanent link to this article: http://www.corvallissecular.org/2013/12/01/freethought-news-12113/
CEO-to-worker pay gap is obscene
http://www.latimes.com/business/la-fi-hiltzik-20131020,0,770122.column#axzz2ltUdPONx
Nothing seems to get U.S. corporations' dander up like a threat to the pay and perks of their chief executives. That's one explanation for corporate America's superheated, turbocharged, over-the-top reaction to the CEO pay ratio rule recently proposed by the Securities and Exchange Commission.

The rule requires most large public companies to calculate the ratio of the pay of their chief executive officer to the median pay of all their employees. Its general terms were mandated by the Dodd-Frank Act, which imposed numerous regulatory changes on corporate and banking behavior in the wake of the 2008 financial meltdown.

…the share of corporate profits going to top management, and by extension corporate shareholders, has gotten out of control…. the diversion of corporate resources from workers to executives and shareholders is a major contributor to rising income inequality in the U.S., as well as to other social and economic ills…. In the 1970s…American companies devoted 15 times as much capital to investments as they disbursed to shareholders. Today the ratio is less than 2 to 1.
_________________________________________________________________________________________
U.S. should copy Switzerland and consider a 'maximum wage' ratio, too
http://www.cnn.com/2013/11/21/opinion/sutter-swiss-executive-pay/
Swiss voters on November 24 will consider capping executive pay at 12 times what the lowest-paid worker at a company makes — the premise being that a CEO should make no more in a month than a low-level employee earns in a year.

Here in America, the land of unequal opportunity, the CEOs of top-500 companies make in a single day about what it takes an average "rank-and-file" worker a year to earn, according to the AFL-CIO, the federation of unions. Switzerland has an average CEO-to-worker compensation ratio of 148 to 1, the group says.

The average U.S. rate is 354 to 1, according to the AFL-CIO. Others put the ratio somewhat lower, around 273 to 1 in 2012. Either way, it's bad. And some U.S. companies are worse, still. JC Penney Co. has the highest ratio — 1,795:1 — on a list of 250 businesses compiled by Bloomberg. That department store's CEO got $53.3 million in pay and benefits in 2012, Bloomberg says. Workers, by comparison, earned only about $30,000 a year.

Another argument against sky-high CEO pay is that it's unnecessary. Lynn Stout, a distinguished professor of corporate and business law at Cornell Law School, told me CEO pay has been rising for decades and that the United States is, in effect, subsidizing the trend with "unlimited tax deductions" on certain forms of pay.
_________________________________________________________________________________________
Swiss voters reject proposal to cap executive pay
http://money.cnn.com/2013/11/24/news/swiss-executive-pay/
Swiss voters overwhelmingly rejected a proposal to cap the salaries of top executives Sunday.
_________________________________________________________________________________________
My view
Executive pay is out of control. So is the corporate emphasis on short-term profit, reduction in corporate reinvestment, and "export" of jobs, dollars and technology to low-wage countries. These factors are helping to weaken and shrink the middle class and to drive more Americans into poverty. Ultimately, this weakens our country and stifles innovation, while building up the power of countries like China. (Have you noticed that China is beginning to flex its military/economic power lately? Expect more of this.)
I advocate a limit on executive pay to some ratio (100:1?) to the minimum pay paid to any employee. (Then watch the minimum pay go up!) I also advocate the taxation of all executive compensation at a high rate. And I advocate the limiting of sending our jobs to other countries. Under no circumstances should the number of US jobs exported to a given country exceed the number of jobs they export to the US.
I believe we have the right to defend ourselves economically as well as militarily. And I advocate for the American worker.
_________________________________________________________________________________________
Reference: https://en.wikipedia.org/wiki/Social_justice
Permanent link to this article: http://www.corvallissecular.org/2013/11/28/economic-justice/
Costco apologizes for labeling Bibles 'fiction'
http://www.latimes.com/books/jacketcopy/la-et-jc-costco-apologizes-for-labeling-bibles-fiction-20131121,0,1596330.story#axzz2ltUdPONx
Costco has apologized for labeling Bibles for sale in a Southern California store as "fiction."

"I was completely offended. It's wrong, and I believe that the Bible is real," Shellie Dungan told KTLA-TV.
My comment as Oregon Iconoclast at 10:29 PM November 21, 2013:  "The Bible is fiction. So is the Koran. So is the Book of Mormon. All religious "holy books" are fiction, and should be labeled as such."
_________________________________________________________________________________________
How does a person go from believer to atheist?
http://www.npr.org/2013/11/22/245953429/how-does-a-person-go-from-believer-to-atheist
About Julia Sweeney's TEDTalk: When two young Mormon missionaries knocked on performer Julia Sweeney's door one day, it puts Sweeney on a quest to completely rethink her own beliefs.
_________________________________________________________________________________________
Atheist ex-pastor Jerry DeWitt's mission to Red America
http://www.thedailybeast.com/articles/2013/11/16/atheist-ex-pastor-jerry-dewitt-s-mission-to-red-america.html
Louisiana pastor Jerry DeWitt unexpectedly became an atheist celebrity when he lost his faith. But he decided to stay put and create a haven for secularists in his hostile hometown. "Everyone else who did what I did left where they lived," DeWitt said, referring to other Christian pastors he's met who took public positions of atheism. "Someone had to stop that. Someone had to be the first not to move, so that the next person doesn't have to move."
_________________________________________________________________________________________
Atheists take on the IRS
http://www.newsweek.com/why-are-atheists-suing-irs-207091
Under current IRS policy, churches automatically qualify for 501(c)(3) status, though nonreligious 501(c)(3)s must go through an extensive application process to get the same tax benefits. In addition, religious organizations do not have to fill out annual Form 990 returns reports, which detail charities' finances so the IRS or nonprofit watchdogs can identify possible fiscal wrongdoing and law-breaking. Critics, who have recently renewed their calls for religious exemption reform, say that these filing differences cost the U.S. government from some $17 to $71 billion annually.

IRS policies also discriminate against donors to non-religious organizations, American Atheists alleges. Non-religious nonprofits must identify, on Form 990, contributors who give more than $5,000, or 2 percent of the organization's total contributions and grants. But religious non-profits don't have to disclose mega donors, because they don't have to fill out a 990. These policies, plus the expense and labor required to meet 501(c)(3) filing requirements, gives churches a "fundraising advantage" and put atheists at risk. "Because there's a lot of stigma about atheism, many people talk to us and say they would donate more but don't want their name publicized in that way," Muscato says.
_________________________________________________________________________________________
Do companies have religious rights?
http://www.latimes.com/nation/la-na-obamacare-religion-20131125,0,2545589.story#axzz2lhj4u5eu
http://online.wsj.com/news/articles/SB10001424052702304011304579222023983439450
Backed by a broad coalition, including the American Civil Liberties Union and the Christian Legal Society, the Religious Freedom Restoration Act became law 20 years ago this month. It declared that the government may not "substantially burden a person's exercise of religion" unless it had a "compelling" reason to do so. Now, that little-known law is at the center of a major "religious liberty" challenge to President Obama's health insurance overhaul and its requirement that employers pay for full contraceptive coverage for their female employees.

Christian employers have gone to court, citing the 1993 law and saying they have a sincere religious objection to providing "abortion causing" drugs such as the "morning after" pill. And they have won before the U.S. appeals courts in Denver and Chicago. The appeals court judges relied on the Supreme Court's much-disputed Citizens United decision that said corporations have the same right as people to make political contributions; they concluded that "for-profit corporations" can be considered "persons" with religious beliefs.
_________________________________________________________________________________________

Adulterers may be stoned to death under new Afghan law, official says
http://articles.timesofindia.indiatimes.com/2013-11-25/south-asia/44449138_1_human-rights-watch-sharia-adulterers
KABUL: Death by stoning for convicted adulterers is being written into Afghan law, a senior official said on Monday, the latest sign that human rights won at great cost since the Taliban were ousted in 2001 are rolling back as foreign troops withdraw.
_________________________________________________________________________________________
My view
The American Civil Liberties Union has done much to defend our liberties. Unfortunately, when push comes to shove, they favor the "rights" of religious citizens over the rights of atheists. The ACLU's support of the Religious Freedom Restoration Act, effectively giving believers more rights than atheists, is an example of this. Now this institutionalized unfair violation of the separation of government and religion is being used to try to enable religious business owners to impose their beliefs on their employees. Shame on the ACLU!
Billions of American taxpayer dollars have flowed into Afghanistan and into the pockets of President Hamid Karzai. Now we are effectively paying for the restoration of Sharia Islamic Law in that country, including brutal public executions. The US is aware of the plan to reintroduce stoning, yet the billions continue to flow. Shame on the Obama Administration!
And think of what could be accomplished, if the billions of dollars that the US gives to Afghanistan, Pakistan, and other countries were instead invested at home in education and in universal, single-payer healthcare, as well as in reducing the national debt.
See also:  http://www.thenews.com.pk/Todays-News-13-26166-US-quietly-decides-to-release-$1.6-bn-to-Pakistan
Permanent link to this article: http://www.corvallissecular.org/2013/11/27/freethought-news-11272013/
Jon Perry: Evolution "Stated Clearly"
http://www.gazettetimes.com/news/local/a-love-of-art-and-biology-propels-website/article_1ab141a2-c945-5886-83a5-b1129c48cf5c.html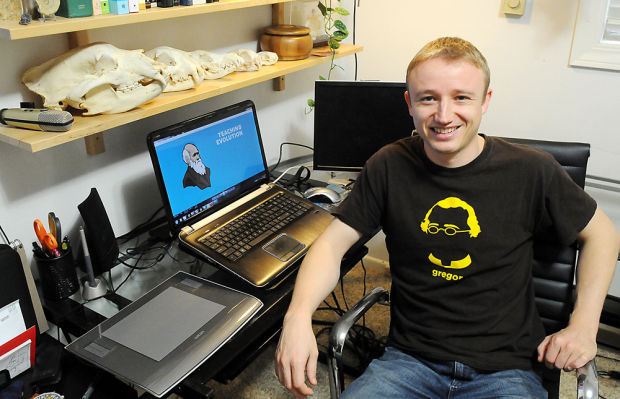 While growing up in south Albany, Jon Perry liked to explore the ditch near his house and nearby Freeway Lakes.

Today, Perry is an animator and web designer who has made animated videos for NASA, the National Science Foundation and Brain Tools, the Philomath venture that is producing a drug for reviving memory in Alzheimer's patients.

What Perry enjoys most is a website he created two years ago that combines his love of art and biology, http://www.statedclearly.com/. It features a number of short, information-rich animated videos he produced to explain topics related to genetics and evolution in simple terms.

Perry wants to produce an additional 17 videos, each of which takes hundreds of hours and about $6,400 to produce. So far he has funded his videos with his own money and donations from friends and colleagues.

He hopes to raise $27,000 to fund three videos through Kickstarter, the crowdsourcing fundraising site. His Kickstarter campaign at http://kck.st/1fiDDPJ started Nov. 20 and ends Dec. 20.
Permanent link to this article: http://www.corvallissecular.org/2013/11/26/a-love-of-art-and-biology-propels-website/
Rules Change a Victory for the American People
http://www.merkley.senate.gov/newsroom/press/release/?id=0B4C3FFF-D066-45AD-916C-7C0447AE9ADA
November 21, 2013

Washington, DC – Oregon's Senator Jeff Merkley issued the following statement after the Senate changed its rules to allow nominations to be confirmed with a simple majority vote as provided for in the Constitution. Merkley, along with Senator Tom Udall (D-NM), has led the effort in the Senate to reform its rules in order for it to become a more functional institution.

"Today's rule change is a victory for the American people. The endless abuse of the filibuster on nominations has done great damage to the independence of our courts. The minority party has filibustered too many qualified nominees to our Executive and Judicial branches, not because of any character or qualification issues, but because they were nominated by our current President. That is just wrong. Nominees deserve up or down votes. These filibusters have been contrary to the spirit of our Constitution, which envisions coequal branches of government.

"The nominees that the Senate minority has blocked over the past year were nominated to positions that affect the American people and the economy in vital ways, including the nominees to head the Consumer Financial Protection Bureau and the Federal Housing Finance Agency.  The judges on the DC Circuit Court rule on issues that directly and deeply impact middle class families, like health care, workplace safety, and clean air and water rules. Moreover, the endless filibusters have taken up endless weeks of the Senate's time, better spent on boosting manufacturing, investing in our infrastructure, and improving education.
Permanent link to this article: http://www.corvallissecular.org/2013/11/22/ending-abusive-filibuster-on-nominations-big-step-to-restoring-functionality-of-the-senate/
1954 "parish exemption" uniquely benefiting "ministers of the gospel" unconstitutional
http://ffrf.org/news/news-releases/item/19361-ffrf-gaylor-barker-overturn-%E2%80%98parsonage-exemption%E2%80%99-clergy-privilege
U.S. District Judge Barbara B. Crabb for the Western District of Wisconsin issued a strong, 43-page decision Thursday declaring unconstitutional 26 U.S. C. § 107(2), passed by Congress in 1954. Quoting the Supreme Court, Crabb noted, "Every tax exemption constitutes subsidy." The law allowed "ministers of the gospel" paid through a housing allowance to exclude that allowance from taxable income. Ministers may, for instance, use the untaxed income to purchase a home, and, in a practice known as "double dipping," may then deduct interest paid on the mortgage and property taxes.

The benefit to clergy is huge — saving an estimated $2.3 billion in taxes in the years 2002-2007 alone, according to a statement by Congressman Jim Ramstad in 2002. Clergy are permitted to use the housing allowance not just for rent or mortgage, but for home improvements including swimming pools, maintenance and repairs. They may exempt from taxable income up to the fair market rental value of their home, particularly benefiting well-heeled pastors. The benefit extends to churches, which can pay clergy less, as tax-free salaries go further.

The 1954 bill's sponsor, Rep. Peter Mack, argued ministers should be rewarded for "carrying on such a courageous fight against this [godless and anti-religious world movement]."
Sadly, it will doubtless be appealed and quite possibly overthrown. Secularists should follow this issue to try to stop this from happening.
Permanent link to this article: http://www.corvallissecular.org/2013/11/22/ffrf-gaylor-barker-overturn-parsonage-exemption-clergy-privilege/
Countering the mawkish sentimentality of the religious at holidays
http://americanhumanist.org/HNN/details/2013-11-thanksgiving-non-prayers-for-humanists
http://americanhumanist.org/HNN/details/2013-11-the-comics-section-thanksgiving-theme
The religious like to use holidays (all holidays) for imposing their religious beliefs and practices on the rest of us. Prayer, grace, or remarks before dining on Thanksgiving, it seems, "belong" to them. If you're an atheist facing the religious gauntlet at your Thanksgiving feast again this year, the following may help you survive. You could even offer to say the grace this time!
THANKSGIVING SECULAR GRACE
May your stuffing be tasty
May your turkey be plump,
May your potatoes and gravy
Have never a lump.
May your yams be delicious
And your pies take the prize,
And may your Thanksgiving dinner
Stay off your thighs!
Happy Thanksgiving!
INCLUSIVE REMARKS FOR THANKSGIVING
As we come together at this special time, let us pause a moment to appreciate the opportunity for good company and to thank all those past and present whose efforts have made this event possible. We reap the fruits of our society, our Country, and our civilization, and take joy in the bounties of Nature on this happy occasion. Let us also wish that, someday, all people on Earth may enjoy the same good fortune that we share.
Permanent link to this article: http://www.corvallissecular.org/2013/11/21/thanksgiving-surviving-the-religiosity-with-humor/